Airport Diner in Manchester, NH

Airport Diner in Manchester, N.H. opened in 2005 and is a traditional 50's style diner conveniently located near the Manchester-Boston Regional Airport, so locals and travelers alike can grab some "Good Food on the Fly!"
Complete with be-boppin' music, a case full of home-made pies, and a tuna melt The Boston Globe called "a local tuna melt worth traveling for," Airport Diner is a family-friendly restaurant that offers something for everyone.
Whether you take advantage of our hearty breakfasts served all day long, or our comfort food favorites American Chop Suey and Chicken Pot Pie – just like mom used to make – you're sure to leave Airport Diner satisfied!
Don't forget our classic frappes, flavored Cokes and a slice of our very own pie, topped off with our Common Man-made ice cream.
Our menus are below. If you'd like to place a to-go order, please use the online ordering button* or call in your order to 603-623-5040.
*Online ordering is for pick-up orders only. Please note that gift cards, coupons, Bonus Cards and other offers cannot be used with the online ordering system at this time. Should you wish to use gift cards, discounts or coupons, please call in your order at 603-623-5040.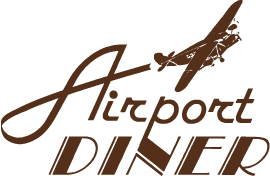 2280 Brown Avenue
Manchester, NH  03103
(603) 623-5040


Airport Diner Groups & Special Events
We welcome the opportunity to host your next special event
Airport Diner also has event space available for up to 30 people in our Hangar One function room.
Fill out the contact form below to start planning your event.