New Berry's on the Common, Plymouth, NH

New Berry's on the Common in downtown Plymouth, NH is a modern revival of the gift store and lunch counter of yesteryear, housed in the former space of the J.J. Newberry's store, popular in the 1940's-70's.
Opened in March 2022, New Berry's on the Common features local art, handcrafted goods from more than 100 local makers, vintage finds and gifts. A re-launch of the lunch counter is expected this summer!
An upscale reincarnation of an old Main Street favorite, New Berry's on the Common is an eclectic marketplace where shoppers can find a wide assortment of gifts for all ages, including children's games and books, antique block and tackle, handmade wooden bowls, soaps, recycled lamps, jewelry, home decor, housewares, original artwork, and more.
Supported by New Hampshire's Common Man Family, the retail space underwent significant renovation, including the restoration of the original 1940's tin ceiling, new wood floors, and a recessed outdoor seating area along the Main Street sidewalk with a view of the common and Town Hall.
Locals will remember the J.J. Newberry's Five and Dime on Main Street in the brick building next to the current Chase Street Market. The historic building was home to the famous Newberry chain that started in Pennsylvania in 1911 and spread across the U.S. during its heyday. Later, the local building became home to the Plymouth Book Exchange.
Stop in to 89 Main Street, Plymouth, NH and check us out! Interested in becoming a vendor? Call our store at 603-536-1349 or e-mail renewberrys@thecman.com. Click here to follow the store on Facebook.
Common Man Gift Cards, Bonus Cards, coupons and promotions are not sold nor redeemable at New Berry's.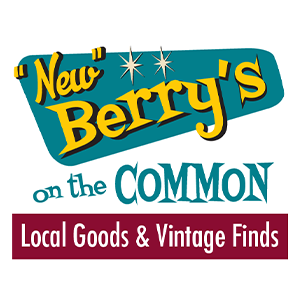 89 Main Street
Plymouth, NH  03264
(603) 536-1349