Common Man Claremont, N.H.

Welcome to Common Man Claremont!
Try our Take and Bake family-sized meals to go! Choose from our famous Mac 'n Cheese, Meatloaf, and more. Info here.
What had once been defunct mills on the banks of the Sugar River in Claremont, are now The Common Man restaurant and The Common Man Inn. 
Ground broke on the Woven Label building for the restaurant, and abutting mill for the Inn project, on May 28, 2008. A little more than a year later, the Inn hosted its first guests on June 5, 2009 and the restaurant opened June 12, 2009. 
Both the restaurant and the Inn offer sweeping views of the falls and the Sugar River. Ask for a patio seat at the restaurant in warmer weather. You won't be disappointed!
Our restaurant menus are below. If you'd like to place a to-go order, please use the online ordering button* below or call in your order to 603-542-6171.
Guests are required to wear a mask upon entering, moving about the building, and leaving. Once guests are seated for dinner, masks can be removed.  If you are experiencing symptoms of COVID-19, we ask that you use our online/phone ordering for take-out and contact-less pick up, or stay home until you are well. Per our Governor's orders, we are seating six guests or less per party.
*Online ordering is for pick-up orders only. Our daily specials are not currently offered in the online order system. Please note that gift cards, coupons, Bonus Cards and other offers cannot be used with the online ordering system at this time. Should you wish to order a daily special or use valid gift cards, discounts or coupons, please call in your order at 603-542-6171.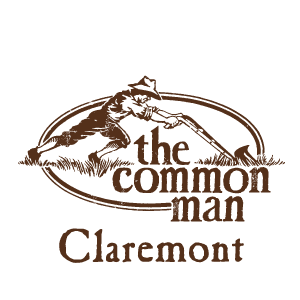 21 Water Street
Claremont, NH
(603) 542-6171 Restaurant
(603) 542-0647 Inn
1-866-578-8111 Inn toll-free in NH


The Common Man Claremont Groups & Special Events
We welcome the opportunity to host your next special event
From weddings to reunions to business meetings, we have numerous options and an exceptional event staff ready to assist you.
Click here for an overview of our event planning guide.
To book an event, fill out the form below.