Foster's Boiler Room in Plymouth, NH

Before your meal, relax by the crackling smoke stack fireplace in our Boiler Room Lounge, or check the latest scores on our large-screen projection television.


Foster's Boiler Room is located inside our Common Man Inn & Spa in Plymouth, N.H. and serves a variety of fine American foods, from light fare to hearty selections, served in our lively pub, or fire-side in our Abenaki dining room.
True story – our restaurant space was once the boiler room for the large paper mill that was later converted by The Common Man family into The Common Man Inn & Spa!
Our menus are below. If you'd like to place a to-go order, please use the online ordering button* below or call in your order to 603-536-2764.
*Online ordering is for pick-up orders only. Please note that gift cards, coupons, Bonus Cards and other offers cannot be used with the online ordering system at this time. Should you wish to use gift cards, discounts or coupons, please call in your order 603-536-2764.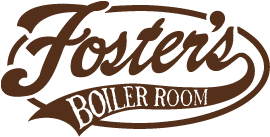 231 Main Street
Plymouth, NH 03264
(603) 536-2764


Foster's Boiler Room Groups & Special Events
We welcome the opportunity to host your next special event
Foster's Boiler Room serves as the Inn's restaurant, as well as the catering staff for all special events at our Inn, and provides catering for off-site functions.
Visit our Groups & Events page here for an overview of our event menus for both in-house and off-site events.
To inquire about booking an event, please fill out the form below.