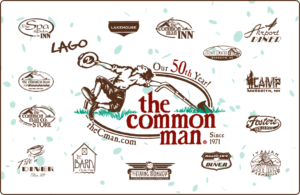 Purchase Common Man gift cards at our Common Man family locations or online by clicking "order gift cards" or "order eGift cards" below. 
Our gift cards can be used at all Common Man family locations including our restaurants, Inns, Spa, Flying Monkey Movie House & Performance Center, Co. Store and Common Man Roadside.
Looking for our 50th anniversary Do Good holiday coupon book? We still have a limited supply left! Purchase in our locations (excluding Roadside) or online with FREE shipping by clicking here. 
Receive or send a traditional gift card in the mail. Redeem at any Common Man location.
Receive or send an eGift Card immediately by email. Redeem at any Common Man location.
Not sure how much your plastic or eGift cards are worth? Click below to check your balance.