With our tin roof, fieldstone fireplace, pine tables, and screen door - you'll feel like you've stepped back in time to summers past!

Camp in Meredith, N.H. brings back memories of summer camp on the lake in this quaint Adirondack-style restaurant. Opened in 1998 in Chase House at Mill Falls, across the street from Meredith Bay on Lake Winnipesaukee, Camp serves up great comfort food. Our signature Camp crackers, Campfire Steak and New England Baked Haddock are among the favorites of our guests – or campers, as we call them! There's even S'mores for dessert!
Our menus are below. If you'd like to place a to-go order, please use the online ordering button* below or call in your order to 603-279-3003.
*Online ordering is for pick-up orders only. Please note that daily specials cannot currently be ordered online and gift cards, coupons, Bonus Cards and other offers cannot be used with the online ordering system at this time. Should you wish to use gift cards, discounts or coupons, please call in your order at 603-279-3003.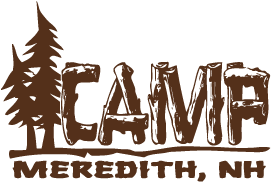 300 Daniel Webster Highway (Route 3)
(inside Chase House at Mill Falls)
Meredith, NH  03253
(603) 279-3003