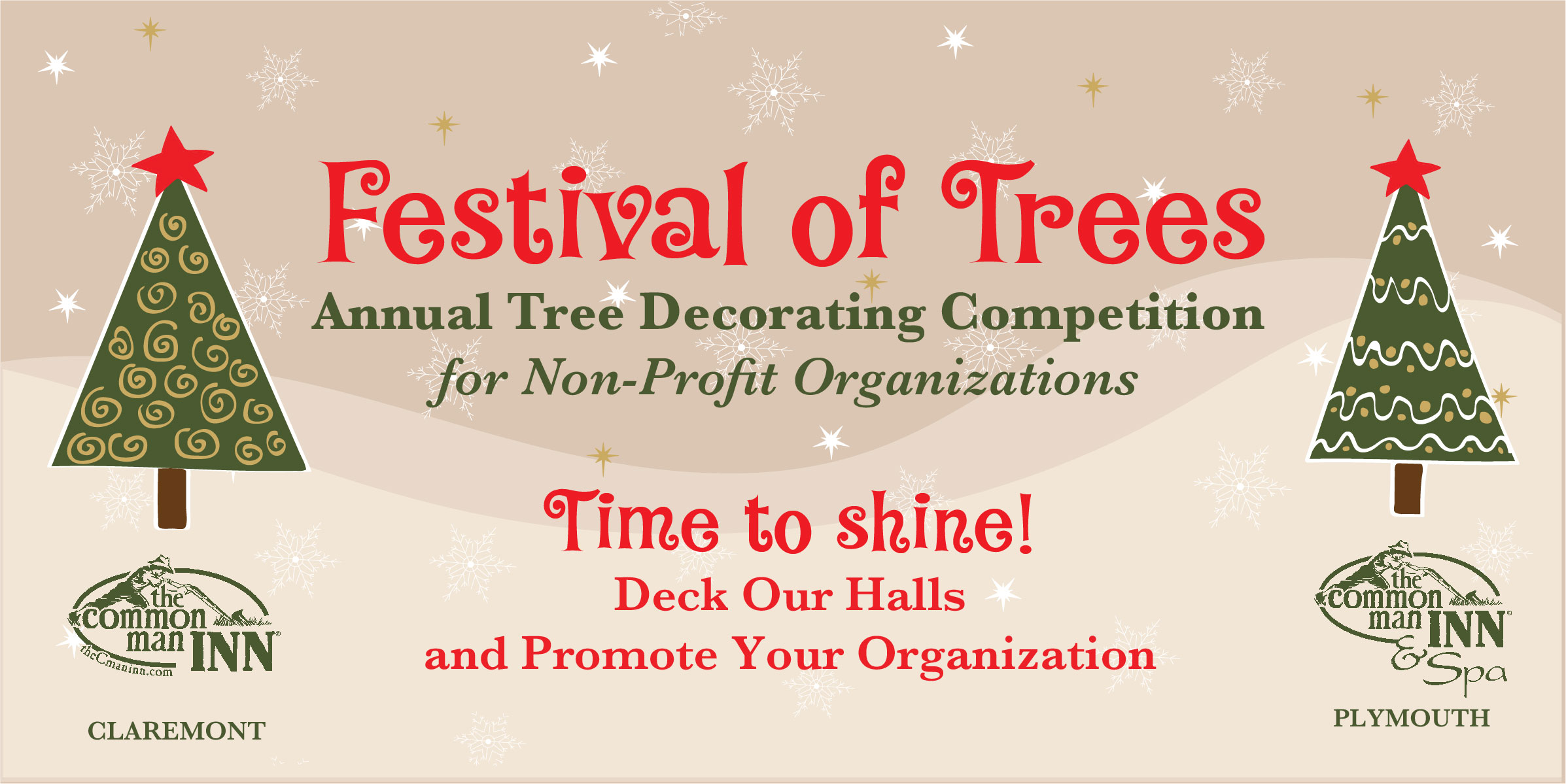 Help Us Deck Our Halls in The Festival of Trees at Our Inns
Time to Shine!
Deck Our Halls AND Promote Your Organization
Register to participate in our Festival of Trees at The Common Man Inn & Spa in Plymouth or The Common Man Inn & Restaurant in Claremont.
Your registered non-profit organization will provide and set up a festive artificial tree in one of our inns that is no more than 7 feet tall. The tree should be decorated in keeping with your organization's theme and accompanied by handouts or other printed materials that detail the mission and work of your organization.
Sign up by Wednesday, November 23 by calling the Inn where you want to display your tree. Tree must be set up and decorated from Monday, November 28 – Thursday, December 1.  The Festival of Trees will be open for public viewing and voting from Friday, December 2 – Sunday, January 1, 2023. Winning organizations will be announced on Friday, January 6, 2022
Festival Prizes*
1ST PRIZE: Non-profit Meeting, Workshop or Conference hosted in an Inn event room. (Event room fee waived, complimentary breakout bites for up to 30 people, 20% off additional guests or food and beverage items for your event.)
2ND PLACE: Two-night stay for two at our Inn
3RD PLACE: Dinner for eight at our on-site restaurant.
Contact one of our Inns by Wednesday, Nov. 23 to register.
Common Man Inn & Restaurant Claremont
(603) 542-0647
elisha@theCmaninn.com
Common Man Inn & Spa Plymouth
(603) 536-2200
byron@theCmaninn.com
Please note that tree placement is first come, first served, though there really isn't a bad spot at either Inn! Please check with the front desk about tree placement when calling to participate. Guests will judge trees using a map we provide. *Prizes do not include tax or gratuity.