Donate to NH Relief for Ukraine
Alex Ray and fellow Rotary members in Poland with food that is being paid for by donations from all over the world.
Our Common Man motto is "Outstanding in our Field" and this was a perfect spot in Poland to emulate that in a photo!
Alex and rotarians planning their trip into Ukraine.
Unloading supplies in Poland for Ukrainian relief.
Alex Ray meets the District Governor of the Warsaw, Poland rotary.
Alex Ray meets the District Governor of the Warsaw, Poland rotary.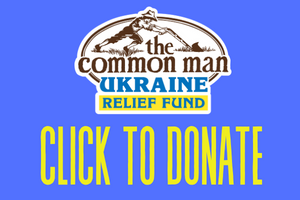 NEW HAMPSHIRE'S COMMON MAN FAMILY LAUNCHES UKRAINE RELIEF FUND, COMMITS TO MATCH UP TO $1 MILLION IN DONATIONS
Hospitality Family Owner Alex Ray Leaves for Poland Sunday to Assess Relief Efforts and Needs for Ukrainian Refugees
ASHLAND, NH – The Common Man hospitality family in New Hampshire has launched the Common Man Ukraine Relief Fund to benefit Ukrainian refugees and those assisting with relief efforts in Poland and surrounding countries, and has committed to matching up to $1 million dollars in donations.
Common Man owner Alex Ray launched the fund this week during a benefit he hosted to honor Lech Walesa, President of Poland from 1990-1995 and Nobel Peace Prize laureate. Ray, Common Man family and Plymouth Rotary representatives will travel to Poland this Sunday to meet with Polish and Ukrainian Rotary representatives and other agencies providing relief to Ukrainian refugees fleeing the war in their home country. Their goal is to assess the most critical needs on the ground, make connections with relief agencies, and by partnering with Granite United Way, ensuring donations raised in New Hampshire would have a direct path to those in need.
"We've lined up five days of meetings with people who can show us the work that is underway and what needs exist," said Ray. "We'll make sure it's secure and we'll develop relationships with those we can trust to direct the funds to go immediately to the most critical projects. We want our donations to go from our hand to their land."
The Common Man has been part of a New Hampshire-based effort to bring relief to the Ukraine region, most recently offering its restaurants as collection sites for donations of critical supplies, which garnered vans full of medical supplies, diapers, toiletries, and more. Ray took that passion and rolled it into his announcement of the Common Man Ukraine Relief Fund, partnering with Granite United Way as fiscal agent to provide a convenient way for Granite Staters and beyond to donate.
Donations can be made by clicking HERE . One hundred percent of donations will be directed to relief efforts in Ukraine and countries supporting Ukrainian refugees.
"Alex Ray has the vision and passion to help others, and this generous match showcases that in the best way. Granite United Way was so impressed with Alex's commitment to the people of Ukraine that we readily volunteered our services to be part of this important relief effort," said Patrick Tufts, President and CEO of Granite United Way. "We are honored to partner with him and the Common Man team to bring the help that is needed to those affected by the crisis in Ukraine. Alex recognizes that we can do more, more effectively, when we work together."
Ray said he feels compelled to travel to Poland because while those of us outside of the war-torn region can't change what Ukrainians are going through, we can help them suffer less by raising funds that will assist them in securing medicine, food, comfort and safety.
"The Common Man family, our guests, and supporters have spent more than 50 years striving to help others here at home and now, we are reaching beyond our borders," said Ray. "We need your help NOW. Ukrainian refugees and their Polish hosts need YOUR help. Every donation will be doubled and will make a big difference to those in desperate need."
Granite United Way is an experienced and trusted organization dedicated to leveraging the resources of investors and volunteers to create lasting change by addressing the underlying causes of our community's most pressing needs.  United Way's purpose is to convene public, private, and governmental leaders and resources to tackle the largest, most pressing issues facing our community. Granite United Way fights for the education, health and financial stability of everyone in every community. Each year, 1 in 3 residents of New Hampshire and Windsor County, Vermont engage with Granite United Way as a donor, volunteer or beneficiary of a United Way-funded program. Granite United Way, the merger of 6 local United Ways, mobilizes the power of 22,000 donors and volunteers to provide more than $14 million in support to over 350,000 individuals and provides funding to more than 750 nonprofit programs. Granite United Way is rated a Platinum level participant by GuideStar and holds a Three Star Charity rating by Charity Navigator. Granite United Way serves the Central Region, Greater Seacoast Region, Merrimack County, North Country, Northern Region, Southern Region (Manchester / Derry / Salem) and Upper Valley Regions of New Hampshire as well as Windsor County, Vermont.  For more information, visit www.graniteuw.org.
Founded in 1971, The Common Man family in New Hampshire is made up of 15 restaurants, two Inns, The Lodge, a Spa, Company Store, The Flying Monkey Movie House and Performance Center and The Barn on the Pemi wedding and event center. Locations include Common Man-named restaurants in Lincoln, Ashland, Concord, Claremont, Merrimack and Windham; Common Man Inn & Spa, Foster's Boiler Room, Italian Farmhouse, The Barn on the Pemi, Tiny Cabins, The Lodge and The Flying Monkey in Plymouth; Common Man Inn & Restaurant in Claremont; Lakehouse Grille, Camp, Lago and Town Docks in Meredith; Route 104 Diner in New Hampton; Tilt'n Diner in Tilton; Airport Diner in Manchester; and the Co. Store in Ashland.  Sister businesses include The Common Man Roadside in Hooksett, Manchester and Plymouth and New Berry's on the Common in Plymouth. For more information about The Common Man, visit theCman.com, and become a fan on Facebook, Twitter and Instagram at @thecommonmannh.