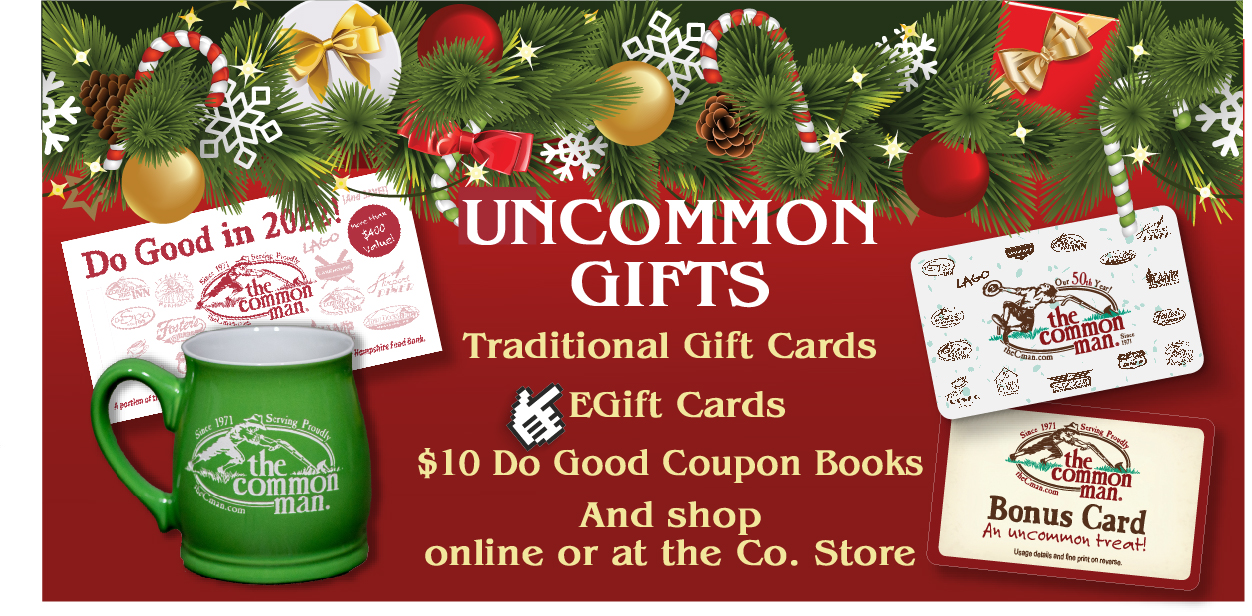 Uncommon Holidays Gift Card Sale, Coupon Books, and More! 20% Back on All Gift Card Purchases
Purchase Common Man Gift Cards* from Fri., Nov. 26 – Fri., Dec. 31 and receive 20% of your total purchase price back on a Common Man Bonus Card! Valid for Gift Cards purchased at our locations (excluding Common Man Roadside) and traditional plastic Gift Cards ordered online here.
PLUS – every Common Man EGift Card purchase of $25 receives a $5 EGift Bonus Card back*! That's 20% back for you! EGift cards can be sent to the recipient's e-mail address immediately or on a scheduled date. Or, send the EGift to your own e-mail address and print and wrap it as a gift! Purchase EGift cards here.
Don't forget to Do Good while shopping for the holidays with our 2022 Coupon Book. Packed with more than $400 in coupons that last all year long. A portion of proceeds benefits NH Food Bank. Purchase our Do Good coupon book in our restaurants, at our Inns and Co. Store, or online with free shipping here.
Looking for unique gifts? Shop our Co. Store at 59 Main St. in Ashland, NH or online at shop.thecman.com for Common Man and Uncommon Woman logo items, house-made fudge, foodstuffs, NH products and more!
Look for our Holiday Meals to Go menu, coming soon! And, festive films at our Flying Monkey Movie House & Performance Center in Plymouth. View their schedule at flyingmonkeynh.com.
Common Man Gift and EGift Cards can be used at all Common Man family locations including our restaurants, Inns, Spa, Flying Monkey, Company Store and Common Man Roadside. Bonus Cards cannot be redeemed at Common Man Roadside or The Flying Monkey.
*Gift Card/Bonus Card Fine Print: From Friday, Nov. 26 – Friday, Dec. 31 guests will receive 20% of their total Common Man Gift Card purchase price back on a Bonus Card for purchases made in-store or traditional plastic Gift Cards purchased online. Every EGift Card purchase of $25 will earn a $5 EGift Bonus Card back. EGift Card purchases are limited to $200 per total transaction. Any amounts over $200, please visit one of our locations or call our office at (603) 968-9330 to purchase plastic Gift Cards and receive a Bonus Card. EGift Bonus Cards associated with EGift Card purchases will be e-mailed separately to the purchaser. Multiple Bonus Cards can be redeemed in one visit and can be combined with Gift Cards as payment. Bonus Cards cannot be combined with other offers, discounts or promotions. Bonus Cards may not be used to pay for gratuity or to purchase Gift Cards. May not be used to pay for events/catering. May not be use to purchase alcohol at the Company Store. Cannot be applied to previous purchases. Holiday promotion is not valid for Gift Cards purchased at C-MAN Roadside locations. Bonus Cards cannot be redeemed at C-MAN Roadside or The Flying Monkey. Bonus cards do not expire. The balance on a Bonus Card carries over until depleted if the Bonus Card total value isn't fully used on the first visit.€
€